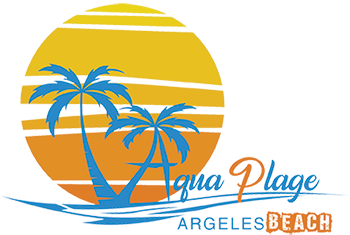 Banana, airstream or sofa : all tubing will take your breath away in Argelès !
Lovers of thrills, speed and gliding, these funny tubing pulled by a boat will be one of your favorite nautical activities this summer !
Aqua Plage Argelès offers you 3 types of tubing to have fun : the banana, the airstream and the sofa. We are sure that youngers (from 7 or 8) and olders will enjoy all of these activites ! The Banana, as its names suggests, has an elongated shape which welcomes up to 8 adults on it, one behind each other. Laughing and thrills guaranted ! Minimum 2 people. The Banana is the best to start practicing tubing quietly. We can truly say you will be coming aboard Airstream because there are many chances that you take off ! Get ready, the tubing goal is to make you thrill ! Better to practice in the morning. The Sofa, speed above all !
Thrills and laugh with this balanced tubing which can go very fast !
Because your safety is our priority, our team very often controls our equipments in order to offer you unforgettable souvenirs on the sea.
TUBING
TARIFF

TOWED BANANA 15mn
8 places
18€/pers
AIRSTREAM* 15mn
4 places
20€/pers
SOFA 15mn
8 places
20€/pers
Formula TRIPLE* (45mn)
Only in the morning and by booking
Towed Banana + Sofa + Airstream

36€/pers
Possibility to hitch 2 Airstreams, which means 8 people at the same time. The Airstreams is better practicing on mornings because weather conditions are essentially better.
Towed Airstream for 6 people on afternoon.
Life jacket provided and obligatory.