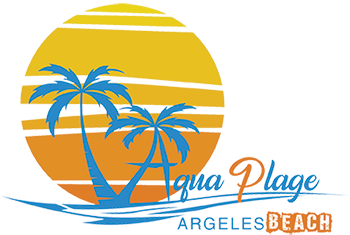 Lessons for all at Aqua Plage Argelès's swimming school
Aqua Plage Argelès offers a swimming school for all : children, teenagers, adults, beginners, etc. Initiation ot aquatic environment, learning and perfecting.
Swimming lessons are tought by a diplomed monitor.
Swimmers evolve in an aboveground pool of 10m x 10m
Swimming school is open from 9am to 6pm, from Monday to Saturday (only on request on Sunday). How does lesson take place ?
Each student evolves at his own rythme, depending on the level and age. Our lessons last 30mn and take place quietly to make learning a pleasure. Lessons are insured by a diplomed monitor
Your child will discover the aquatic universe with all safety required. Swimming lessons are supervised by a diplomed monitor. Also, you can choose between collective or individual lessons. Aquatic initiation for youngers
From 3, thanks to the aquatic initiation, it only needs few lessons to your kid to get the basics : put the head under the water, emerge it out to breath, open the eyes and blow under the water, etc. This basics are so important in order to learn swimming with confidence later.
Tariff for swimming lesson in Argeles
SWIMMING SCHOOL
FORMULAS
TARIFF
1 lesson

19€/pers
5 lessons
90€/pers
10 lessons
160€/pers
Swimming lessons take place in July and August, from Monday to Saturday, starting from 9am - 30mn each.
For individual lesson, please contact us
Tariff for private swimming lessons
PRIVATE SWIMMING LESSONS ADULT AND CHILD
FORMULAS
TARIFF
1 lesson

35€/pers
5 lessons
160€/pers
10 lessons
320€/pers
Swimming lessons take place in July and August, from Monday to Saturday, starting from 9am - 30mn each.
For individual lesson, please contact us